Nutritional therapy catching on for top equine performance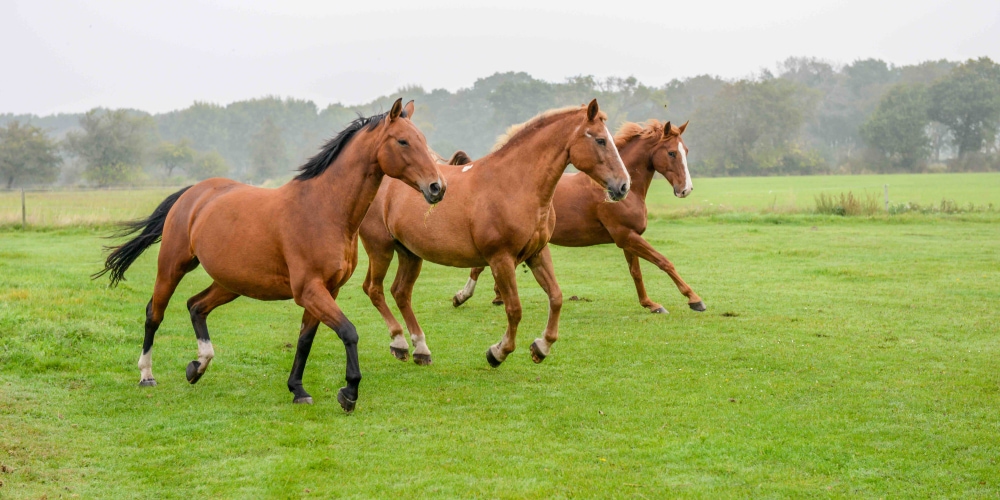 For most horses, summer marks the time of year that tends to be the most physically and mentally demanding. Whether it be travelling between rodeos and horseshows, working longer days on the farm or ranch or spending longer hours riding pasture, the summer months tend to bring more challenges for horses and horse owners.
More hours of travel or physical labour, along with more heat and handling, can take a strong toll on even the top conditioned working horses or equine athletes, affecting both their wellbeing and ability to work and perform at their highest level. Research has shown that increased time on trailers and under saddle can lead to deterioration of muscle condition, decreased energy, dehydration, ulcers and other costly impacts.
As research uncovers more knowledge about the substantial, often hidden costs of stress on horses, both during the summer and year round, more horsemen, including many top hands across equine communities, are turning to innovations such as nutritional therapy to help mitigate the negative impacts and keep their animals in top care and condition.
Keeping horses in peak condition
This trend is part of a steady evolution involving greater application of innovations in nutrition science to promote health, welfare and peak performance with the animals. The inclusion of specific supplemental amino acids and nutrients in equine diets has now become common practice in many training and boarding facilities across most equestrian disciplines. Lysine, tryptophan and magnesium, along with more robust full spectrum nutritional therapy products such as DeStress-Equine, are prime examples of nutritional therapy supplement options that are rapidly gaining adoption and interest.
Nutrition components custom tailored in the bio-based DeStress-Equine formulation include energy sources, electrolytes and amino acids. Formulations are designed to support, maintain and replenish critical nutritional needs in the face of stress, while also triggering additional positive and "calming" physiological responses. The product is based on years of pioneering research representing the cutting-edge of nutritional therapy science.
Increased nutritional therapy works to keep horses hydrated, fully nutritionally supported and more relaxed, allowing for optimal performance in and out of the ring. Mitigation of stress also acts as a preventative measure towards many other ailments that impact sport, work and pleasure equine animals. Reduction in stress increases consumption of water, appetite and condition, which also in turn prevent other costly issues.
Top hands adopting nutritional therapy
Professional steer wrester, Chance Butterfield, of Ponoka, Alberta is no stranger when it comes to supplementing horses with nutritional therapy options. He has been using nutritional supplements in his string of competitive bulldogging horses since his teen years, and has been an early adopter of the latest options – most recently the advanced nutritional therapy product DeStress-Equine.
The biggest issue that Butterfield has faced in his horses has been dehydration. Supplementing his string with electrolytes while on the road helped but he has found that the best approach is adding the more complete, more robust DeStress to his feeding regime. This has produced consistent strong benefits protecting his horses' performance and keeping them in top shape. "In our sport," Butterfield says, "the horse is 75 percent of your run. If your horse isn't at his full potential, no matter how good you are, you won't be able to make up the difference."
When your equine counterpart plays that large of a roll in your competitive edge ensuring their fitness, hydration and comfort level must be the top priority, he says. "Nutritional therapy provides that peace of mind you are giving your horses their best opportunity for success."
Simple and effective management tool
Shawna Sapergia of Cochrane, Alberta, has seen similar positive impacts on her reining horses by including nutritional therapy in her herd. Growing up in a family of horse trainers, she too has been using different forms of nutritional therapy since her childhood years. Now, as a professional reining horse trainer, she spends a large part of her summer on the road travelling to horse shows.
In order to keep her horses in top shape, and mitigate stress associated with travel and competition, she turned to the use of DeStress-Equine in the past two and a half years. She has seen very dramatic and obvious positive impacts of DeStress during her travel.
On a 30-hour trip to Oklahoma City in the fall of 2016, one of her horses was showing signs of shipping stress. Part way through the trip, the mare hadn't touched feed or water and was showing dehydration. After feeding DeStress on one of their next stops, the horse quickly resumed normal behaviors, and was back on feed. One of her trailer mates that had been fed DeStress prior to the trip had been travelling well, eating and drinking normally. "The pelleted form is excellent," Sapergia stated. "It's easy to feed and horses eat it really well." Having convenient stress management tools on the road can make the difference between a horse that's ready to perform upon arrival, and one that is not.
Supporting health and longevity
Supplying horses with high quality feed, while supplementing nutritional therapy ensures strong performance and increased general wellbeing for competitive and working horses. The two work in tandem to supply horses with essential nutrients, minerals and amino acids to facilitate maximum performance, health and longevity.
Not only are the benefits being seen in horses in the show pen, but out on pasture as well. Maintaining a lower level of stress ensures a high level of care for horses across the board. Equestrian sport is based around the love of horses so why not take the best care of our equine counterparts as possible? Nutritional therapy mitigates the impacts of stress, increasing performance, and reducing the associated negative effects of stress on horses. For their best performance, and their healthiest self, nutritional therapy makes the difference.
Posted on July 31, 2017 by Brad Brinkworth